*AUSTRALIAN TOUR DATES ....................
Special Guest Artists:
ASHLEY COOK, PEGGY GILCHRIST, GREG BAIN,
JOHN LECNER, EMMA JENE
More Dates released soon!
________

JUNE Saturday 10 - DUBBO CM Festival Macquarie Inn - 7:00pm
________

JULY Thursday 13 - TOWNSVILLE Thuringowa RSL Club QLD - 7:00pm
JULY Saturday 15 - HOME HILL Bowls Club QLD - 7:00pm
JULY Sunday 16 - MACKAY Senior Citizens Centre QLD - 1:00pm
JULY Friday 21 - YEPPOON The Club House QLD - 8:00pm
JULY Saturday 22 - MARYBOROUGH Carriers Arms Hotel Motel QLD - 8:00pm
JULY Sunday 23 - GYMPIE Albert Bowls Club QLD - 1:30pm
________
SEPTEMBER Friday 1 - TAMWORTH Wests Leagues Club NSW - 8:00pm
SEPTEMBER Friday 15 - TAMWORTH (View Club State Conference) NSW - 7:00pm
SEPTEMBER Saturday 23 - TEXAS Country RoundUp QLD - 7:30pm
SEPTEMBER Sunday 24 - TEXAS Country Round-Up QLD - 10:00am
________

OCTOBER Saturday 21 - WOLUMLA Community Hall NSW - 7:30pm
OCTOBER Sunday 22 - QUEANBEYAN ACT - 2:00pm
OCTOBER Friday 27 - TAMWORTH Wests NSW - 8:00pm
________

NOVEMBER Friday 3 - THEODORE QLD - 7:30pm
NOVEMBER Saturday 4 - ROCKHAMPTON St Mary's Hall - 1:00pm
NOVEMBER Sunday 5 - BOROREN Community Hall - 2:00pm
NOVEMBER Friday 24 - TENTERFIELD Golf Club - 7:30pm
NOVEMBER Saturday 25 - OAKEY Community Centre - 2:00pm

________

DECEMBER Friday 15th - TAMWORTH Wests NSW - 8:00pm
________

JANUARY 2018 TAMWORTH COUNTRY MUSIC FESTIVAL

Tour Dates are constantly updated as only confirmed bookings are listed!
* MEDIA RELEASE .........................................
Lindsay Butler & Shaza Leigh's
. . . GALAXY OF STARS

The Galaxy of Stars Concert is Australia's premier National Touring Road Show featuring four of Australia's very best established Recording Stars.

This years roster includes The Master of Country Guitar - LINDSAY BUTLER OAM, Australia's First Lady of Song - SHAZA LEIGH, Qld's Own Balladeer - ASHLEY COOK and The Queen of the Country Piano - PEGGY GILCHRIST.

These artists have accrued hundreds of awards and accolades throughout their respective careers and combined, their visual and musical presentation stands amongst the best concerts in Australia today.

Lindsay Butler OAM is the greatest Australian country guitar player of his generation. His unique sound is the most recorded and recognisable style of his era, featured on thousands of recordings, inspiring generations of young pickers to play guitar.

Lindsay has had a great deal documented about his illustrious recording career, including multiple Golden Guitars, elevation to the Roll of Renown and receipt of the Order of Australia Medal, for services to Australian country music.
Having toured with as Slim Dusty's guitarist for 17 years, Lindsay has forged one of the most significant careers of any musician in this country and the Lindsay Butler legend continues. He has released over 30 career albums and was just awarded 'NSW Musician of the Year' and has received 'National Male Artist of the Year' on radio on four occasions.

Lindsay Butler is a true living legend in musical circles.

Shaza Leigh is the epitome of success in the Australian music business and is a gifted performer, powerful vocalist, talented musician and leading songwriter with over 220 published songs to date. She is indeed a very rare talent having amassed a room full of awards for singing and song writing including 'National Female Artist of the Year' 4 times and is the reigning 'QLD Female Vocalist of the Year', having won this award for the last 12 consecutive years.

Shaza has secured inductions into The Hands Of Fame, Australian CM Wall of Honour and Womens Wall of Fame in Tamworth as recognition of her years of recording, touring and dedication to her craft and has received 9 Golden Guitar Nominations.

Shaza Leigh, a seasoned professional and specialist concert performer, has 13 career albums plus 3 DVD's including her Golden Jubilee DVD released this year. She will feature material from the various albums showcasing her vocal maturity and song writing prowess, highlighting tracks spanning a 30 year career.


Ashley Cook reigns supreme amongst today's generation of Australian Bush Balladeers, undoubtedly one of our best and brightest. Ashley has released 6 highly acclaimed albums resulting in numerous awards including 'National Bush Ballad of the Year', 'Qld Bush Balladeer of the Year' 5 times and this year claimed the big one, at the Gold Medallion Media Awards in Tamworth, when he was crowned 'National Male Artist of the Year' on radio.

Ashley has built a strong reputation with solid ethics and his dedication to his recording career has never wavered, culminating in his elevation to The Australian Country Music Wall of Honour for his significant contribution to the Australian recording industry plus hits in the National Charts.

Ashley Cook is one of our legends in the making, having carved out his own successful career whilst proudly respecting the legends responsible for paving the way in the field he loves. Ashley currently carries the torch proudly for all who have gone before and all who may follow.


Peggy Gilchrist is well renowned on the Australian Circuit and has well earned her title as Queen of the Country Piano. Peggy has dedicated her life to being a professional musician and for almost a decade has been touring exclusively with Shaza Leigh and Lindsay Butler as part of their touring show.

Peggy is a highly sought after session musician and has featured on nearly every LBS Music release for the past 10 years playing piano and strings. She has also released 2 award winning solo instrumental albums, securing 5 Qld Musician of the Year titles, 1 National Female Artist of the Year Award and last year's duet instrumental album with Lindsay Butler OAM won The Peoples Choice Award for Best Vocal or Musical Event of the Year.

Peggy is a vivacious entertainer and brings enormous energy to each performance.


The Butler Showband is one of the last touring show bands, spearheaded by multiple award winning recording stars, Lindsay Butler & Shaza Leigh. They have maintained one of Australia's premier show-bands for 25 years. Both leading entertainers in their own right, with highly acclaimed recording careers, these two superb musicians build an awesome 4 piece show-band around their foundation.

The Butler Showband in 2017 is as impressive as ever, featuring recording artists: Queen of the Country Piano Peggy Gilchrist 'Qld Musician of the Year', playing old piano favourites; 'Qld Bush Balladeer of the Year' Ashley Cook sharing bass and rhythm guitar duties.

Don't miss one of Australia's finest touring shows in concert !!

* CONTACT ....................................................

LBS Music Australia
Phone: 07 5562 1292
SMS: 0412 605 488
Email: shazaleigh@lbsmusic.com.au



* WEBSITES Artists on tour .........................

www.lindsaybutler.com.au
www.shazaleigh.com
www.ashleycook.com.au
www.lbsmusic.com.au/peggygilchrist.htm
www.gregbaincountry.com
www.lbsmusic.com.au/johnlecner.htm

* PUBLICITY PHOTO ....................................
Lindsay Butler OAM & Shaza Leigh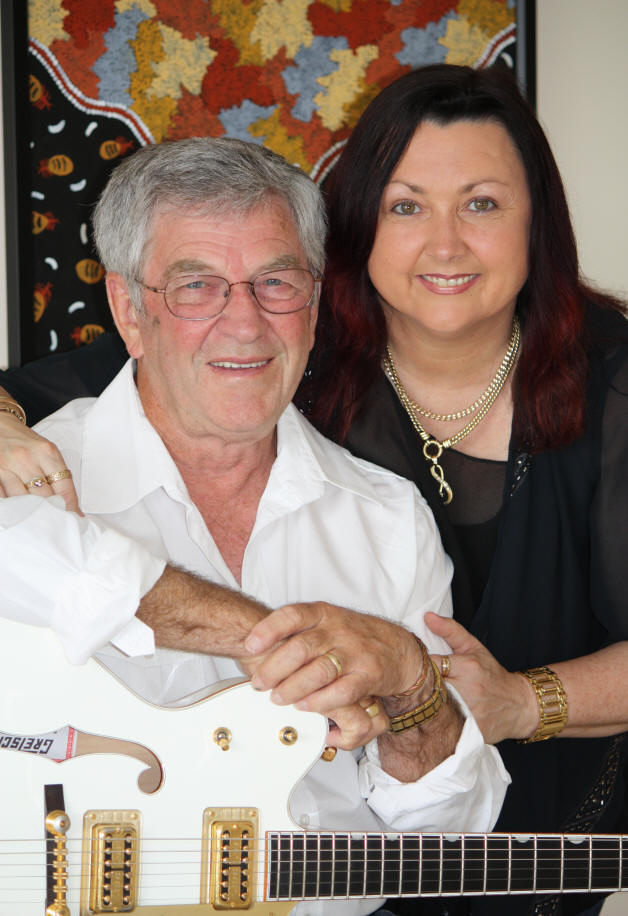 All Artist Websites (above) have individual images available for print.